Life's been good. After graduation I attended Santa Ana College for a 1½ years. At that time, still not knowing what I wanted to do in life, I enlisted in the Army.
After returning from Vietnam, life took me on what became a 40+ year career in the insurance industry.
That career started with the Hartford Insurance Group and my moving to Dallas, TX in an accelerated operational management position. Next, a transfer to their office in San Francisco and then to the home office in Hartford, CT. Being a Southern California boy and interested in American History, I was amazed by the history that was there. My office was across the street from Mark Twain's home, Harriet Beecher Stowe's home was just a couple of blocks away and numerous other well-known Colonial landmarks were but a short distance from where I lived and worked.
Looking to return to Southern California, I accepted a position with a regional office of an international insurance brokerage firm. Part of my responsibilities included management of offices in Hawaii. Just imagine, in your 30's, single, a very  generous expense account and having to commute to Hawaii.
I married Jean, a single mother with a daughter, Lori; instant family. We divorced after 4-years. Since the divorce, daughter Lori has elected to maintain a relationship and calls my current wife and me her "bonus" parents. Lori has two children, Ava and Colin, who call us grandpa and grandma.
Leaving the management side of insurance, I got my brokers license and started the last phase of my career on the commercial-retail side of the industry.
In 1988 I married Karen. Although it took some time, she finally asked me. We had previously worked together at an insurance agency in Glendale, CA. As she likes to say – having our incomes from the same industry "made for boring pillow talk and strong computer passwords".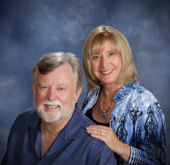 We spent approximately 25-years living in Redlands, CA where we were both active within the community. I was a founding board member and officer of the Redlands Conservancy and was on the board of the Family Service Association of Redlands. Then on July 4, 2012, to my surprise, I decided to retire; went cold turkey without any plans other than to see what life would bring next. What it brought was our returning to Orange County and purchasing a home in San Clemente.
During our marriage we have had numerous opportunities to travel starting with a honeymoon in Greece and the Geek Isles, we watched Boris Yeltsin demonstrate in the old USSR, we have been to England, Italy, Germany, Austria and other European Countries plus have taken photography excursions to the Galapagos and Sea of Cortez with National Geographic, not to mention extensive travel throughout the US.
As hobbyists, we have trained protection dogs (German Sheppard's and Belgian Malinois's). I have traced my family's genealogy to the early 1500's in England and in the colonies; I found some great stories (and "black sheep") in the old family line. I have taken up photography and now have a camera wherever we go.
Currently, we are both enjoying retirement with family and friends. We are planning on additional travel, sampling the many restaurants found in Orange County and I continue to take photos.  Life's is indeed good!
John & Karen Terry
catymarko@cox.net